Comedy Hall of Fame
The Comedy Hall of Fame is a conservancy and production company established to honor comedy's rich history with the goal of institutionalizing comedy as one of the performance arts. Through Archive interviews, live symposium at Museum of Moving Image, programs for public television, and improv classes and workshops in public schools, we showcase comedy's power to communicate, educate and act as a catalyst for social change.
In a time where we need comedy more than ever, we sadly say goodbye to founding voices in our archives…
GINNIE NEWHART (1940-2023)
Ginnie Newhart, beloved wife of 60 years to Bob Newhart, passed away Sunday, April 25th, 2023. His comedic alter ego and muse, she was present for every phase of her husband's career. Ginnie is credited with creating the iconic 1990 "Newhart" finale, which cleverly calls back to Bob's 1972-1978 sitcom "The Bob Newhart Show." This innovation is just one testament to her creativity and importance to the comedic field, as she both encouraged and inspired Bob. She will be dearly missed.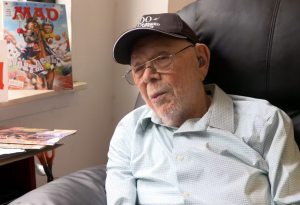 AL JAFFEE (1921-2023)
Al Jaffee was a gentle, brilliant soul, a spectacular innovator with the most organic understanding of comedy, and a founding father of Mad Magazine.  Interviewed by the Comedy Hall of Fame in 2022, his 101st year, he brilliantly laid out his most important tenant of comedy: make fun of concepts and ideas, never people. Included is the clip of his ah-ha moment, when he invented Mad Magazine's most significant innovation— the fold in. His comedy will continue to live on.
JERRY STILLER (1927 - 2020)
Jerry Stiller, one of the founding voices in the Comedy Hall of Fame Archives, has sadly passed away. After decades of laughter, the Brooklyn native has given us years of gut-busting humor ranging from his role as the male counterpart of the stellar husband-and-wife comedy team "Stiller & Meara", Frank Costanza on Seinfeld and Arthur Spooner on The King of Queens.
Jerry leaves behind his son Ben Stiller and daughter Amy Stiller who both partake in the family business of comedy, making this family one of the most successful comedic dynasties in modern history. We are proud to forever recognize him in the Comedy Hall of Fame.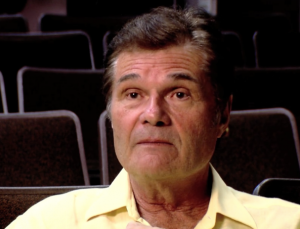 FRED WILLARD (1931-2020)
Fred Willard, the comedic actor known for his roles in movies including "Best in Show" and "This is Spinal Tap" and TV sitcoms "Everybody Loves Raymond" and "Modern Family," has passed away at the age of 86.
The Comedy Hall of Fame preserves the rich history of comedy through the Archives, a virtual oral history of the last 100 years. The Archive serves as a platform for comedians, as artists, to define the art of comedy.
The Comedy Hall of Fame Foundation educates through Laugh it Out Improv: programs that use comedy in the classroom to engage students. Through Improv, Laugh it Out teaches students to listen, collaborate and innovate; increases self esteem and builds community, all while having fun.
The Comedy Hall of Fame and The Comedy Hall of Fame Foundation celebrate comedy through programs at Museum of the Moving Image and full length documentaries for public television.